SAUNDERS RECORDERS
BRISTOL ENGLAND
Orders by telephone, email, or post, welcome.
Please click this link for details.

Goods normally dispatched within 24 hours.
Please click here to see the contents list for this page.

Please see the News page for details of the changes to the business.
My stock of most products will not be replenished.
Please be sure to refresh your browser.
The business proprietor is John Everingham F.T.C.L.
This page was last updated

This page is no longer a price list.
I am turning it into a rather personal recorder archive.
As I progress in this task, more images, of discontinued models,
will become available.
SAUNDERS RECORDERS stocked a range of good and better quality recorders. Both wooden recorders and plastic recorders feature in this list. I tried not to adopt an elitist stance, but there was no rubbish. It can be difficult to choose between a wood recorder and a plastic recorder at the lower end of the price range and I believe that the better recorders made of plastic are preferable to many recorders made of wood.
I stocked very musical and playable recorders from around ten to more than a thousand pounds. They are listed by manufacturer. I am no longer buying in new stock. My listings have proved to be a popular resource and they will remain on line for the time being. Only existing stock items are priced. They are discounted and when they are gone they are gone.
All the recorders listed are baroque fingered models. 'German' fingering is not used in the UK. (Thank goodness!) They are all supplied in some sort of bag or case. The most expensive recorders come in better quality cases or wallets. They play at 'Concert Pitch' (A=440) except where otherwise specified. (Some makers work to A=442. The difference is not very significant but it can be helpful.)
These pages are the result of adapting the paper price list, with comments, that had always been a feature of this business. Gradually the influence of the web has taken over and the features extended. I have taken a lot of trouble to keep everything printer friendly. Indeed, if you really want a paper version of any of the pages I am able to produce one and mail it to you. When the business was young there was no internet or home computer let alone a 'smart phone'. How different things are now! I do not think of myself as running an 'internet business', and I will continue to be available, in person. The service relies on my personal expertise and experience and you may visit me by appointment. Please do not overlook the music pages. My music stock has now been transferred to Recorder Music Mail who will be very happy to supply you.
Tax. The business is no longer registered for VAT.
In response to requests for recommended models I introduced a cute little icon

against my preferred models. (Click the icon for more information.) I have only done this for recorders at the lower end of the price range (plastic and wood). They are my personal choice and you can find out more by reading my choice notes. A new feature is the green 'smiley'

that marks models that I think are better suited the needs of folk music. A few recorders that now have a green smiley, on the right, did not qualify for a yellow smiley because of their price.
Many of the less expensive wooden recorders are available with single holes for the lowest notes. I have chosen not to stock them and they are not mentioned in the list. All cheaper wooden descant recorders are made in two pieces only, most plastic descants are made in three. I do not regard the difference as significant. The moveable bottom joint should never be turned to facilitate 'left handed' playing. The price at which wooden descants start to be made with a separate foot joint is about £100. If you find a new instrument with a separate foot joint for significantly less you are likely to be very dissatisfied with the tone and finish.
There are hyperlinks in the list which will produce images of the recorders,

, and mp3 sound files,

. If you would like to see what audio is available click here. Please explore the site fully, and do not ignore "Other Topics". There is a wealth of material on the "Information and Advice" page.
If you click on the page of data (the right hand side of your screen if there is a left hand menu) and then hit Ctrl F your browser should bring up a search box for that page.
ADLER
The production of Adler recorders has ceased.
ARIEL / ZAMIR
Plain instruments for the budget conscious. The production of these recorders has ceased. I no longer have any. Just for the record, I have resurrected a picture of two maple descant models here.
AULOS
There have been many changes to this range of plastic instruments over the years. The popular but rather strident flat bottomed 205 descant has been replaced by the 205A which will surely meet with approval from teachers and children alike. It is slightly shorter than before and just as easy to play, but much sweeter in tone. It still comes in the famous yellow bag. The keyless tenor 211A, of similar appearance to the 205A descant, replaces the old 311N. All Aulos models (except the sopranino) now come with a thumb rest. The other models listed here offer alternative characteristics for the discerning player. Where "E" appears in the model number I believe it signifies "English" (or "Baroque") fingering. Some previous instances have been removed, they were a source of confusion. A "G" signifies "German" fingering. I do not stock "German" fingered recorders at all.
The new, sweet toned, all brown 303 descant is low priced, but seems to me to be a poor thing indeed. I do not like the tone of lowest notes of the new 503B model descant. The matching sopranino, 507B-E, is good. The all black 803 descant was not at all nice and is discontinued.
The new models are very similar to the previous ones, but have a concave end to the bell. I do not think that this is a significant design feature. (Except for bell stopped notes, which become nearly impossible to execute cleanly.) I have found the patent reference here...

https://www.freepatentsonline.com/5375498.pdf

It wasn't until I saw the drawings that I had any idea what they were describing. Perhaps it was lost in translation.
The 309A treble is my recommendation for adult beginners and new players who do not mind the extra cost. I no longer have any of the reedy sounding 509E treble. The tone of the "B" model is smoother but it I do not care for the intonation. The latest version of the straight bass, 533EE, is a noticeable improvement.
There are also two instruments after Richard Haka, descant and treble. These have very tightly focused and slightly reedy tone, and the treble a delightful attack. Both are simulated rosewood, very convincing, nice to play and hold. The latest versions of these models seem to me to play in the same way as the previous ones.
The baroque flutes are very playable.
This is a link to the 2009 catalogue in pdf format from the maker of Aulos recorders. You will not be able to view it in your browser unless you download Japanese character support. (You can avoid this, if you wish, by right clicking the link and saving the file to your computer. It should open in Acrobat Reader without any problem or extra download.)
I have removed comments about the 'white spot' on the 500 series of Aulos recorders as the passage of time has made it irrelevant. The first 500 series all had it, and it was a convenient way of identifying these special models. I have produced a page detailing some old models here, with some comments on the various models. It now includes an image of the mysterious 'white spot'.
The UK distributor of Aulos products changed at the end of June 2012. I have added the fanciful model names now associated with Aulos recorders.
Aulos Recorders

501S
garklein 'Symphony'
I refuse to list this as a 'Kleine Sopranino', the Aulos description. The fingering for this model has some surprises and I have prepared a pdf version of the chart provided by Aulos here.
£27.29
In Stock.

---

207
sopranino nla (all gone)
507B-E
sopranino 'Symphony'
£15.42
In Stock

---

303A
descant 'Elite' (blue bag) all brown.
103N
descant 'Alouette'
One piece, single holes, fixed thumb rest, brown and ivory.
This unusual model has a very good sound and deserves to be popular.
205A
descant 'Robin' (yellow bag)
£12.50
In Stock
503B
descant 'Symphony'
703BW
descant 'Haka' model rosewood finish.
£30.83
In Stock
204AF
Special descant, for unusual hands, see note.
£17.00
In Stock

---

209B
treble 'Robin'
£19.00
In Stock
309A
treble 'Bel Canto'
£29.00
In Stock
509B
treble 'Symphony'
709BW
treble 'Haka' model rosewood finish.
£46.25
In Stock
309AF
Special treble, for unusual hands, see note.
£29.00
In Stock

---

211A
tenor 'Robin' (keyless).
£45.00
In Stock
511BE
tenor 'Symphony' with keys for C & C#.

---

521E
knick bass 'Symphony' F/F#.
533B
bass 'Symphony' F/F#, (Top entry mouth pipe.)
533EE
bass F/F#, (Fat mouth pipe.)
(Listed for information only.) Discontinued.
1683B
direct blow cap for bass. Discontinued.
1678L
beak for pipe blown bass.
In Stock. See also here.

Pipes continue to be a problem and I have managed to modify an old cap so that it takes the current pipe.
Click here if you would like to see a pdf showing what is involved. If you cannot do it yourself, I may be able to do it for you.

---

DTR
clip-on thumb rest, for descant
£1.00
In Stock
ATR
clip-on thumb rest, for treble
£1.50
In Stock
TTR
clip-on thumb rest, for tenor
£2.00
In Stock
Some spare parts are available (not 'silver' tenor keys). New spares for long discontinued models are not obtainable but I may have something in my box of bits and pieces.

Aulos Baroque Flutes

AF1
'Grenser' A440, gloss finish, black/ivory.
Special order item. Reintroduced, now with black emboucher hole surround. (As AF2 in above image.)
AF2
'Grenser' A440, matt finish, black/ivory.
No longer made. (You may be able to get one of these from another dealer.)
NLA
AF3
'Stanesby' A415, matt ivory/white metal. Now supplied in wallet.
Special order item.
AURA
The Dutch factory which produces Aura recorders also produces the Coolsma and Zamra models. Dolmetsch Academy and Conservatoire models are also made there.
The low priced descant models listed below are a small part of the range. Because of serious quality contol issues I have discontinued the all plastic (Far Eastern) descant which I previously sold under the Roessler brand name. (In some regions it is branded "Angel".) It was a nice recorder of traditional Renaissance shape but good baroque performance... an economic and attractive alternative to the ubiquitous brown and ivory plastic. The plastic headed model is also now distiscontinued. It is slightly longer and the wooden body has the same hole spacing as the Zamra descant. This version seems to me to have a more lively and vibrant feel. There will be no more of either model. The Korean made heads are no longer any good.

The Conservatorium models (obtainable to order) are of high quality and full baroque styling.
Aura

BS3B
pearwood. Unvarnished, oil finish,
'O-ring' joint. Plastic case. 'School'
descant
BS1
pearwood. Varnished, with cork joint and zippered fabric case with handle. 'Studie'
descant

Aura/Coolsma - Accessories

Thumb rest, various woods.
A / T
CARMENA
All gone. No longer available.
GARY COOK
(Malvern Recorders) I am no longer an agent for these individually hand crafted instruments. Gary has had to move to the USA and it will be some time before he is back in production.

If you need almost anything special in the recorder field he can probably make it for you, and it will be good. Gary is expert at design as well as construction and probably more able than any other maker to produce unusal pitches or other "one offs".

I no longer hold any of his instruments. Click here for representative pictures.
TIM CRANMORE
I no longer stock these. They can be very good. You should deal with him direct.
DOLMETSCH
Early in 2010 this most famous maker of recorders and other instruments found itself unable to continue trading. It is a matter of great sadness and loss to recorder players, in England, and around the world. Arrangements are in place for the continued servicing of Dolmetsch hand made recorders at Haslemere.
I decided to restock with 'school' quality descants branded Aura rather than continue with virtually the same instruments branded 'Dolmetsch'.
However, the Dolmetsch name lives on and can still be found on a range of very good factory made recorders from Holland. These are of good wood, design, finish and performance, and are voiced to suit the English taste.
The "Academy" range has relatively plain turning and the descants are in two parts. The boxwood and real Brazilian rosewood trebles are particularly nice. The "Conservatoire" range is of standard baroque shape with thumb-hole bush, sweet toned, and with easy top notes.
Dolmetsch 'Nova' Plastic Models.

A consort of brown-black and cream imported recorders with attractive features. They are light in weight, need only a relatively small finger spread, have easy top notes and well matched tone. Nice cases and the usual accessories are provided at very affordable prices. The tenor and bass are particularly good.
Please follow this link for my notes on the bag of small parts supplied with the tenors and basses.
Because of quality issues there will be no more of these. They are really gone!
(An internet search may produce them under a different 'house' brand name. Be warned, the big ones are good, but recently made examples are likely to have faults that affect their playability).
DN2110
sopranino (three piece).
NLA
DS2120
descant (three piece).
NLA
DA2130
treble.
NLA
DT2140
(N301)
tenor, two keys C/C#, thumb rest & strap.
NLA
DT2140N
(N301K)
knick tenor, two keys C/C#, thumb rest & strap.
NLA
DB2150
knick bass, four keys F/F#, thumb rest & strap.
NLA
Old Dolmetsch (and EMI branded) plastic recorders.
For information on old model Dolmetsch plastic (ABS) recorders please click here.

I have spare C and C# key parts for the old ABS plastic tenors. Check this link.

Please contact john@saundersrecorders.com letting me know what you need.
Dolmetsch 'Academy' Model


6122
boxwood, 2 part
descant
6124
rosewood (palisander), 2 part
descant
EMI
'EMI' branded recorders are no longer available. They were the same as the black ABS Dolmetsch models. The tenors have the same keys as Dolmetsch and I do have spares available. Please see the note and link just above.
HEINRICH
Heinrich recorders were made in the former East Germany but production ceased not long after re-unification.. There were many different models and some were good. There were many different bass designs. These instruments are long lived and generally serviceable. Avoid all German fingered models. Towards the end of the factory's life the instruments were branded 'Adler Heinrich' and there was some production for a well known far eastern company. The cartons often had the salesman's 'puff' of 'The World's Best Recorder' on the label. Do not fall for it!
HOPF
'Hopf' branded recorders are no longer available. The renaissance models are available from Kobliczek. Secondhand 'Meister' trebles are well worth considering, they have an unusally small stretch for the right hand. See Kobliczek for the metal recorders.
KENT
The distributor for this range of very inexpensive plastic instruments from Korea has ceased trading.

I had serious reservations about the musical quality of the small sizes in brown and cream plastic, particularly the cheapest models, which mimicked Aulos. However, the brown/white tenor and bass played well and were excellent value. These two sizes are now available under the Dolmetsch "Nova" name.

Surprisingly, a translucent blue descant for £4.99 was very good. It is easy to play and has good tone and intonation. Unfortunately, they are no longer available but I have left this entry just to demonstrate that 'cheap' does not always equate to 'rubbish'. You may be able to find it on-line with a different name.
| | | | | |
| --- | --- | --- | --- | --- |
| | KCR-BL | Blue, clear plastic. | descant | |
KOBLICZEK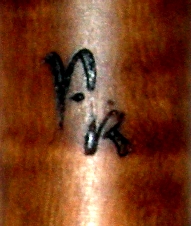 Koblicek Maker's Mark.
The recorders are good and come in many pitches and designs. The best known range are wide bore and uniquely for this type play the full two octave range. Two shapes are available, "Renaissance" and "Praetorius". The "Praetorius" are the more ornate and more popular. The bass now has an authentic style key for hole IV. Zapatero boxwood is also available.
Two shapes of baroque recorder are produced, 'Studium' and 'Meister'. The 'Studium' is smoothly curved in a plain but slightly modernistic style, while the 'Meister' is ornate, with spherical bulges, based on an un-named French recorder. The olive wood 'Studium' sopranino is particularly good. The 'Studium' and 'Meister@ maple descants are sweet and have very easy top notes. They are pitched a little higher than most wooden descants. This makes them an attractive proposition for use in an ensemble dominated by plastic recorders (especially those from Yamaha).
There have been also brilliant recorders for buskers and folk groups. The 'Silberton' also sold as 'Gruber System' is of all heavily silver plated brass, descant, and sopranino, while the treble has a wooden body and keys for F/F#. These instruments have a wide parallel bore and something of the sound of a flute. The unusual moveable windway enables one to vary the voicing and produce husky "ethnic" effects, which "mic up" well. The source these days is probably through the internet. Key your requirements into a search engine and see what you can find. The 'Concerto' had a wide bore and thin wall giving it a robust but not coarse tone well liked by folk musicians.
Kobliczek 'Studium'

KOB148
olive wood (in bag) (two piece)
sopranino
KOB152
maple (in bag) (two piece)
descant

Kobliczek 'Meister'

KOB554
palisander (three piece)
descant

Kobliczek 'Renaissance'

The very plain, straight ones, prices as "Praetorius" models.

Kobliczek 'Praetorius'

KOB752
maple
Link to PDF fingering Chart.
garklein
£166.63
In Stock
KOB754
maple
Link to PDF fingering Chart
sopranino
"diskant"
£181.21
In Stock
KOB756
maple, dark stained
descant
"sopran"
KOB762
maple, dark stained.
treble in F

Kobliczek 'Concerto'

No longer available.

Silberton

Cylindrical Metal Recorders, occasionally available second-hand.

Please check my used list.


KUNG
These fine instruments, produced in Switzerland, are so well known to regular players that they need little introduction. It will serve well to quote from their catalogue:-
"All our instruments are finished by hand and played to check sound and tuning.
"Our instruments are fashioned from one piece of wood, thus ensuring a uniform structure and grain; they are never assembled from various pieces, except the instruments in grenadilla and sub-bass recorders."
'Studio'. This is a very attractive style, derived from the usual shape of a baroque instrument, but simplified and refined. The tone production favours the low and middle range though the highest notes are not difficult. The tone is full, and needs a good stream of air. They are not for soloists, but excellent for group players as the sound blends so well. The keyless tenor is a delight and fits the hand easily.
'Superio'. An historical range, with curved windway, naturally finished. These models have a refined, rich tone and attractive baroque styling to the instrument and keys. The extra expense is amply justified by the very high quality which is evident in their materials and performance.
'Classica'. Franz Kung's original design was available in all sizes. Sadly, it has been phased out. Tastes change.

The sopraninos of this range were very popular, easy to play and not too small for an adult's hand. The tenors are well liked too. Although they take quite a lot of air they blend well and are easy to keep up to pitch. The handsome almost 'architectural' sub-bass and great bass support large ensembles the world over and will doubtless continue to do so for generations to come.

The No.3407 grenadilla treble was particularly good, having a very strong and brilliant tone. Its more open voicing made it more suitable for brilliant modern works and avant garde techniques.
Kung documentation is more comprehensive than many and I have copied their instruction sheet to .pdf files. You may click for multilingual instructions or fingering. If you have difficulty in viewing them in your browser, right click and download them for viewing with Acrobat Reader. The instructions are those of Kung. Please do not draw me into a discussion over differences between them and those which appear in my care section. We have both written what we have written.
Kung 'Studio'

KNG1101
pear wood
garklein
KNG1201
pear wood, two part
sopranino
KNG1203
cherry wood, two part
sopranino
KNG1301
pearwood, two part
descant
KNG1311
stained pearwood, two part
descant
KNG1303
cherry wood, two part
descant
KNG1901
'Folklora' Bb descant, pearwood, two part
(Equivalent to A=392.) A rich new sound.
This recorder can be played from clarinet parts.
Click here for notes on transposing instruments.
KNG1401
pearwood
treble
KNG1411
stained pearwood
treble
KNG1403
cherry wood
treble
KNG1501
pearwood, keyless
tenor
KNG1503
cherry wood, keyless
tenor
KNG1581
pearwood, keyless
knick tenor

Kung 'Superio'

KNG2207
grenadilla, two part.
sopranino
KNG2301
pearwood, two part
descant
KNG2304
plum wood, two part
descant
KNG2306
palisander, two part
descant
KNG2401
pearwood
treble
KNG2404
plum wood
treble
KNG2406
palisander
treble
KNG2603
cherry F/F#
knick bass
KNG2722
maple, stained C/C#
knick great bass
KNG9722
End pin (support)

Kung 'Classica'

See the note above.

The mouth pipes for early 'Classica' basses and great basses have an unusual feature that can give trouble. Click here for a pdf help page on the subject.
MOECK
These are perhaps the most widely used wooden recorders, they come from the factory founded by Dr.Hermann Moeck at Celle, near Hanover, in Germany. The range covers most needs, and other early musical instruments are also made. Moeck recorders are, like any other, made to be played, but the Moeck recorder is at its best when played to be heard. They are not for the timid. The Moeck baroque recorders have a unique bloom to their sound, which gives them great appeal. This, coupled with a good standard of workmanship, makes them very successful.
Moeck keywork has been revised. It is a very great improvement. Recorders have always tended to suffer from unsatisfactory keys but the new Moeck keywork is very different from previous designs. At last, lessons learned a hundred years ago by clarinet and other woodwind instrument makers have been applied to the recorder, with excellent results.
For the beginner Moeck produce the wooden 'School' model and the 'Flauto I', which looks like wood, but is in fact, plastic. The 'Flauto I' has an interesting tone which is vibrant and husky. The sort of sound you might expect from a wooden instrument if you didn't know better. They are very popular with folk musicians. There is also the 'Flauto I Plus' with a plastic head and wooden body. They have a sweeter sound.
The 'Flauto Rondo" ensemble recorders has been developed from the original 'Tuju' model. This is a good general purpose model, ideal as a first wooden recorder. Their ancestry goes back through a bell-less 'Flauto Leggero' model. These recorders are vibrant, slim bodied and light in weight. Their finish is usually natural, clear varnished, but they can come with a mid brown translucent varnish. Small 'Rondo' recorders are supplied in black lightweight fabric wallets.
For the advanced player there is the 'Rottenburgh' range designed by Friedrich von Huene, who founded a notable workshop in America, and has trained many of the new makers of fine recorders. Various woods are used, each having its own particular sound and feel, palisander (rosewood) and black, ebony/grenadilla are the most popular. (Only the terminology has changed, the palisander is red/brown and the same timber as has been used for the past fifteen years or so. It is finished with a red/brown translucent varnish. Grenadilla has replaced the ebony models, which have not been varnished for some time.) The maple is usually natural but may be dark (as above). The pearwood has a clear, or alternatively, a dark translucent varnish.
The trebles modeled on originals by Thomas Stanesby are beautiful and likely to find favour with players who require an mature instrument (especially at A=415), for solo and trio sonatas and similar mixed ensemble baroque music. (Colour leaflet available.)
Besides the baroque recorders there are the renaissance models, wide bore and with a loud and pungent tone, very suitable for dance music. Their compass is limited to a twelfth. There are also 'Kynseker style descants and trebles in plumwood. Their tone is beautifully even and sweet, with just a touch of bite and reediness.
All Moeck recorders come in nice cases. The hard cases that replaced some of the cloth or leather wallets supplied with smaller Rottenburgh models have been discontinued.

Smaller Rottenburgh models are now supplied in a zip fastened case.

Current production now has gold plated keys rather than the previously unplated nickle silver.
Moeck 'Flauto I' and 'Flauto I Plus'

MOE1021
plastic, light, (dark nla) 2 part
descant
MOE1023
wood body, plastic head, 2 part
descant

Moeck 'School'

MOE1210
maple 2 part
descant
MOE1212
pearwood, 2 part
descant
MOE1213
pearwood, 2 part
dark finish.
descant

Moeck 'Flauto Rondo'

MOE2100
maple (double holes) 2 part.
sopranino
MOE2200
maple, 2 part.
descant
MOE2201
maple (stained) 2 part.
descant
MOE2302
pearwood, new shape.
treble
MOE2400
maple, keyless.
tenor
MOE2420
maple two keys (C/C# foot)
tenor
MOE2440
maple two keys (C/C# foot) knick
tenor
MOE2520
maple, F/F# foot
bass
MOE2540
maple, knick style, as above.
bass
MOE2620
sycamore (D#, C/C# foot)
Gt. bass
in C

Moeck 'Rottenburgh'

MOE4100
maple, 2 part
sopranino
MOE4104
boxwood, 2 part
sopranino
MOE4105
palisander (rosewood), 2 part
sopranino
MOE4107
ebony, 2 part
sopranino
MOE4290
maple, 2 part
descant
MOE4200
maple, 3 part
Special order item.
descant
MOE4202
pearwood (natural)
descant
MOE4203
pearwood (dark finish)
descant
MOE4204
castello-boxwood
descant
MOE4205
palisander (rosewood)
descant
MOE4207
ebony/grenadilla
descant
MOE4208
rosewood (tulip wood)
descant
MOE4300
maple
treble
MOE4302
pearwood (natural)
treble
MOE4303
pearwood (dark finish)

treble
MOE4304
Castello-boxwood
treble
MOE4305
palisander (rosewood)
treble
MOE4307
ebony/grenadilla
treble
MOE4306
olive
treble
MOE4308
rosewood (tulip wood)
treble
MOE4400
maple, keyless
tenor
MOE4420
maple, two keys (new style keys)
tenor
MOE4404
boxwood, keyless
tenor
MOE4424
boxwood, two keys
tenor
MOE4405
palisander (rosewood), keyless
tenor
MOE4425
palisander (rosewood), two keys
tenor
MOE4407
ebony, keyless
tenor
MOE4427
ebony, two keys
tenor
MOE4520
maple
bass

Moeck 'Renaissance'

This range has been replaced by the 'Renaissance Consort' at about twice former the price. The first batch featured original fingering and mean tone temperament, which is still available, but there are now other options.

Moeck 'Kynseker'

MOE8250
plumwood, 2 part
descant
MOE8350
plumwood, 2 part
treble

Moeck 'Stanesby'

MOE5323
Indian boxwood, plain, A=440
treble
MOE5326
Indian boxwood, patina, A=415
treble
MOLLENHAUER
Conrad Mollenhauer produce a very wide range of recorders, all beautifully made of very good wood. The characteristic sound of their wooden instruments is more robust, and with more overtones than most. They are well worth trying for this different sound, which has a lot of character.
For the beginner the 'Swing' and 'Prima' model descants are a good choice. They are clear toned and easy to play, with a delicately shaped beak. The new black model Swing descant is set to be the standard colour way. The 'Student' descant is very similar to the old 'Chorus' model, but slightly more plain in styling. The sound is well rounded. The 'Canta' models are beautifully styled and have a clear, brighter tone than the traditional Mollenhauer production. The treble is a real winner!
The 'Denner' range is of traditional baroque design and tone, similar to Moeck's 'Rottenburg' range. The new style descants are very elegant in tone and appearance. The voicing of the trebles has been revised so that they are more sweet and even toned, with very good top notes. The tenors have a impressive rich full tone.
The 'Kynseker' models retain a quirk of the original fingering, (F# on the C and B on the F instruments need the little finger in both registers). This is no great problem and they play well, over the two octaves. There was some production of this model with standard fingering.
The 'Dream' models inspired by Adriana Breukink are unlike any other recorder. They have a renaissance profile and come in a natural wood finish as well as dull red and dusky blue. (I have changed my original description so as to reflect the colour of the instruments supplied rather than those illustrated in the brochure.) They have now been joined by all plastic and plastic headed soprano models. (See below.) The bore is unusual and gives a robust sound similar to a renaissance instrument, but there is no restriction of compass. This is a fun recorder, great for children and theatrical performance. Both double hole and single hole versions are available. (I have decided not to stock the coloured single hole versions, but a special orders are not a problem.) These sound more like renaissance models, but they have the standard full range. These recorders are generally well liked by folk musicians.
Following the untimely death of the Australian maker Fred Morgan there was an increasing degree of collaboration between the two workshops. The new shape Denner range was the first in which this was really evident but there was Morgan influence on the earlier Denner models before the collaboration was made public at the 2002 Frankfurt Musik Messe. In 2012 the Denner treble design was revised and the 'New Model' appeared. The difference resulting from the slightly increased length and bore diameter is not great but the sound is slightly warmer, with more body.
Most Mollenhauer recorders are supplied in unusual and practical zippered soft cases of padded fabric, or leather. The largest sizes (and some smaller ones) are supplied in deluxe hard cases.
Mollenhauer 'Adri's Dream Recorder'

The tone of these recorders gets progressively more individual as the instrument acquires wooden parts. The all plastic version does not stand out unduly compared to the usual run of better plastic instruments. The plastic heads are thinned at the windway and encourage a good lip position. Wooden parts are available to special order so the models with plastic parts may be converted to all wood. (Please enquire for prices.)



MOL0119R
All Red Plastic, double holes two part.
(Black discontinued.)
descant
MOL1119B
Blue plastic head, pear wood body, double holes, two part.
descant
MOL1119R
Red plastic head, pear wood body, double holes, two part.
descant
MOL4117
pear wood, single holes, two part
descant
MOL4117B
pear wood, single holes, blue, two part. to special order, price as above.
descant
MOL4117R
pear wood, single holes, red, two part. to special order, price as above
descant
MOL4119
pear wood, double holes, natural, two part.
descant
MOL4119B
pear wood, double holes, blue, two part.
descant
MOL4119R
pear wood, double holes, red, two part.
descant
MOL4317
pear wood, double holes,
two part
treble
MOL4427
pear wood, double hole,
double key.
tenor
MOL4527K
pear wood, 2 body keys,
foot F/F# keys.
knick
bass

Mollenhauer 'Swing'

MOL0505
plastic, black/beige beak, three part.
descant
MOL0605
plastic, transparent, clear, three part. Now unavailable, discontinued by Mollenhauer.
descant
NLA
MOL0705
plastic, all beige,
three part. Now unavailable, discontinued by Mollenhauer.
descant
NLA

Mollenhauer 'Prima'

MOL1054
Dark blue plastic head,
wood body. Two part.
descant
MOL1094
Beige plastic head,
wood body. Two part.
descant
MOL1295
beige plastic head, wood body.
treble

Mollenhauer 'Student'

MOL1042
pearwood, two part.
descant

Mollenhauer 'Canta'

MOL2106
pearwood, two part.
descant
MOL2206
pearwood
treble
? MOL2226
pearwood, with low F key.
treble
MOL2246
pearwood, with low F/F# keys.
treble
MOL2406
pearwood, keyless.
tenor
MOL2446
pearwood, keys for C/C#
tenor
MOL2446C
pearwood, Two body keys and keys for C/C#
Special order item.
'comfort'
tenor
MOL2406K
pearwood, keyless,
knick style, in hard case.
Special order item.
tenor
MOL2446K
pearwood, keys for C/C#
knick style, in hard case.
Special order item.
tenor
MOL2546K
pearwood, knick style.
bass
MOL2646K
stained pearwood, knick style.
I have provided some help notes here...
2646_Assembly.pdf.
Great Bass
in C

Mollenhauer 'Chorus'

This range is no longer in production.
It has been replaced by the 'Canta' series.

Mollenhauer 'Denner'

A typical Mollenhauer case is illustrated here...

MOL5022
boxwood, 2 part
sopranino
MOL5107
pearwood
descant
MOL5120
palisander (rosewood)
descant
MOL5122
boxwood
descant
MOL5124
grenadilla
descant
MOL5125
rosewood (tulip wood)
descant
MOL5206
pearwood
treble
MOL5220
palisander (rosewood) (Old recording.)
(New recording.)
treble
MOL5222
Castello boxwood
treble
MOL6100ac
Cherry Wood. 'Denner'
treble
MOL5223
olive wood
treble
MOL5224
grenadilla
treble
MOL5225
rosewood (tulip wood)
treble
MOL5222T
zapatero boxwood (A=415)
treble
NLA

---

Mollenhauer 'Denner Line'

MOLDL-5222
castello boxwood. A=415
Special order item.
treble

---

MOL5406
pearwood, double holes
(no keys)
tenor
MOL5416
pearwood, two keys C/C#
tenor
MOL5422
boxwood, double holes
(no keys)
tenor
MOL5432
boxwood, two keys C/C#
tenor
MOL5430
palisander two keys C/C#
tenor
MOL5506
pearwood, two body keys, F/F# keys.
bass

Mollenhauer 'Kynseker'

MOL4001
maple
garklein
MOL4107
maple, 2 part
descant
MOL4108
plum, 2 part
descant
MOL4207
maple, 2 part
treble
in G
MOL4208
plum wood, 2 part
treble
in G
MOL4217
maple, 2 part
treble
in F
MOL4218
plum wood, 2 part
treble
in F
MOL4407
maple, 2 part
tenor
MOL4408
plum, 2 part
tenor
MOL4507
maple
bass

The Recorder - Based on Historical Models
Fred Morgan - Writings and Memoirs

(MOL6406)
English version.
Book.
link
PAETZOLD
The most well known instruments from the workshop of Herbert Paetzold are his square section great bass and sub-bass recorders. These have a strange appearance (I know one called Frankenstein!) but they work superbly well. The air column is folded in a way that organists will recognise, and this makes for a compact instrument, without detriment to the tone.
The supply of these is rather uncertain and I no longer attempt to stock them.
ROESSLER
Update, September 2005. Please see the article in Windkanal 2/2005. The firm has been sold to Mollenhauer who will finish some part made instruments and offer maintenance support. There is a possibility that the name will reappear.
'School'. These were basic, but generally well made with plain styling from pearwood. The instruments were also sold in the UK under the "Chester" name.
'Dulcia'. These were maple and very smooth in shape, similar the the old Moeck 'Tuju' model but with even fewer turned features. Brass rings at the sockets. Rather nice but long discontinued.

'Meister'. This is Roessler's own design of high quality general purpose instrument. They came in many woods. Their sound is darker than most recorders, with a slightly nasal quality, much more direct and less winsome than the tone of a Moeck. The appearance is smoothly modernised baroque and the hardwood instruments are only polished, not varnished. All the basses have a double key for F/F#. The bass has a shorter head than any other and plays like a big treble, Telemann sonatas are quite playable, especially the one in f-minor (originally suggested for bassoon) it was deservedly very popular.
'Oberlender'. The historic model from Roessler. The sound is dark and even, right up to the highest notes. These are lovely, distinctive instruments.
Roessler recorders turn up from time to time and make it onto my used list.
SCHOTT & Co.
This is a name that has disappeared from the instrument side of the recorder world. In the past they have supplied instruments with the Schott brand in various qualities and distributed Zen-On and Mollenhauer models.
In the UK Schott were at the forefront of the recorder revival in the 1940's. You will find the dreadful kitemarked beech descants in junk shops and charity shops every where. There are at least two bakelite descant models, not very good, but collectable out of historical interest in the material. I have acquired some of these instruments, click here to see them.
Many of the DDR produced Schott 'Concert' and 'Prelude' models are still about. The pearwood 'Concert' range was fairly good in its day but only the tenors and basses are worth bothering with now.

Beware examples with a metalised plastic key, they break and are not repairable or replaceable. The maple Prelude range was rather better.
WILLMAN
John Willman made many types of early musical instruments. For a long time he was based in Bath. There will be no more but you can view one of his Bressan style boxwood trebles here.
YAMAHA
Yamaha models are widely copied, not always with good results. Quality control is very important. Even Yamaha can produce instruments that do not play well. If you have a problem you may find an answer on this page.
The Japanese giant produces an amazingly good range of recorders. They cover everything from cheap plastic school recorders to a very expensive authentic A=415Hz Denner copy. It is my feeling that the smaller plastic instruments are rather sharp, and should be pulled out, as I like to feel a bit more resistance to my breath. The plastic tenor and bass put many older wooden instruments to shame but the sopraninos are relatively poor, those from Aulos being very much better.
Yamaha 20 Translucent plastic. Shocking pink, green or blue! Better than the YRS24.
Yamaha 24, 28, cheap, but well produced, 'chorus' type tone, not for strong blowers. Here is a picture of the unusual white treble
Yamaha 300 Series, once advertised as being 'Rottenburgh', (I can't think why, can you?). Baroque styled instruments. The simulated wood versions, are more expensive, but worth the extra because of the feel. I prefer the very convincing rosewood version, the ebony has prominent light streaks. The new wood finish trebles are different from the immediately previous production and much better. I should point out that the beauty is but skin deep and wears away with diligent practice. (Perhaps this could start a fashion among students, a bit like frayed jeans!). The tenor now has keys for low C/C#. The descants and trebles need pulling out. The latest models proudly display the famous Yamaha tuning fork trademark. The new cases are different, made of fabric rather than vinyl. The tenor and bass are very good.
Yamaha 43, maple instruments, varnish finished. These instruments are no longer produced.
Yamaha 61, 62, 64, Middle priced instruments of considerable appeal. They have very even tone, perhaps a bit too even, and are nice recorders which work very well. The trebles are a bit weak at the bottom for some players, who are troubled by "burbles", but this does not happen with the descants. The maple large recorders are a separate stream and very good. They are light in weight and have a beautiful, focused 'flutey' tone. The Gt.Bass is superb, of handsome appearance, with fully chromatic keys and very agile and secure tone production. The profile is like the Bressan bass at Chester, with the globular bell and a choice of hollow pegs for playing while sitting or standing.
Yamaha 82, 83. These are a different design again. Yamaha like to change the design with the material. These are real recorders in the best authentic style. They are not puffed up modern instruments but feel right for baroque music. To me, these have the nearest feel in a modern pitch instrument to that of a baroque pitch instrument. I like it very much.
If ordering by reference number note that the third letter is critical, even Yamaha themselves get confused by this! The 'B' at the very end indicates 'Baroque' as opposed to 'German' fingering. (See the glossary page.) I will have nothing to do with 'German' fingered instruments.
Yamaha YRF 21 If you fancy trying the sideways sort of flute, the Yamaha fife is just the thing. It plays very like a descant recorder, and the fingering is, where different, like the modern Boehm flute. Of course there are a few snags, but at the price one can't complain. It is very playable and musical when you know how, and a good introduction to this sort of instrument.
Yamaha Fife

YRF21
fife in C (white)
"The Fife Book" by Liz Goodwin (2nd. edition)
Click here for an extended comment on this instrument.

As I am not able to re-stock the fife from Yamaha and there seems little need to stock the book to go with it. The fife is readily available from Yamaha dealers and the book is published by Just Flutes. I have left the reference and my comments about fife on my site as there is very little information about this product available and it is not well understood. I was pleased and flattered to receive a 'thank you' from Yamaha Canada for providing information that enabled them to answer questions raised by one of their clients.


"The Rough Guide to the Flute & Piccolo" by Hugo Pinksterboer (Penguin)
All you need to know! But unobtainable at the moment. (2008)
ZAMIR/ARIEL
Plain instruments for the budget conscious. The production of these recorders has ceased. I no longer have any. Just for the record, I have resurrected a picture of two maple descant models here.
ZAMRA

This budget range comes from from Holland. Maple wood (only) and simple but attractive styling combined with a clear, sweet tone make this a welcome addition to my catalogue. As with all my recorders, they are checked for tone and intonation. At the moment I am adjusting the trebles to bring them up to my standard. The tenors are very popular and good value.
Zamra

VS500B
descant, maple, two part , 'O-ring' joint.
VA500B
treble, maple.
VT500B
tenor, maple.
ZEN-ON
Zen-On distribution has changed and they have become unavailable. I now have none left.
The high quality plastic recorders have a following in spite of their relatively high price. They are made in Japan and modelled on named originals. Their tone is true and suitable for the serious student. The simulated wood models are good value and convincing. The big wooden instruments are quite light and blend well in an ensemble.
Zen-On wooden recorders are unusual but of good quality. I have resurrected a picture of a bass here.